Types of Flowers
Are you searching for the best type of flower to gift to that special someone?
Flowers are a universal language that can convey all kinds of feelings. Whether you want to convey your love and devotion, or just want to say thank you, flowers are a great way to send a message. Flowers can help you express your feelings without having to say anything at all (especially if you have trouble expressing yourself).
Discover which bouquet conveys exactly what you want to say with our guide to types of flowers and their meanings.
Knowing your flowers can make all the difference when it comes to choosing from all the options available today. Whether you're looking for flowers for a wedding, a funeral, a birthday or an anniversary, understanding the deeper meanings and symbolism of flowers will help you in your flower-buying venture.
Lisianthus - a patient reward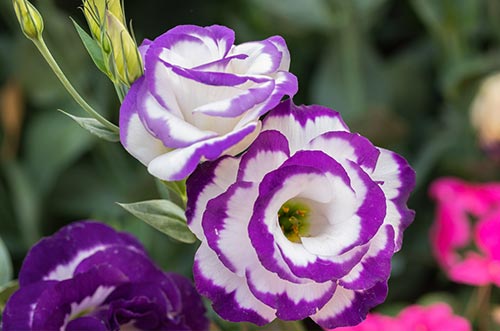 The lisianthus is another flower with several names, also known as the eustoma or prairie gentian.
The term prairie gentian comes from the area in which this flower is naturally found - the prairies of North America. However, these plants are also grown in South America, Mexico and the Caribbean.
The lisianthus is a herbaceous perennial that can also be grown as an annual in cooler weather, adding a great deal of variety to this plant. What makes these flowers more uncommon is the fact that they can take quite a while to grow - up to 20 months in some situations.
However, being patient is its own reward,these georgous flowers bloom is hese colours: purple, pink, blue and white. Multicoloured variations are also popular. The bold nature of these plants means they're often used to show appreciation for other people, adding another use for them.
Origin:Lisianthus flowers originate in North America, Mexico, the Caribbean and South America
Vase life:Generally 7-14 days
Colour range:They can bloom in multicoloured or single colour varieties, including pink, purple, blue and white
Best occasion:As lisianthus plants are a common symbol of appreciation and gratitude, they make ideal thank you gifts.
Symbolism:Appreciation, confidence, gratitude, charisma, charm
---
Alstroemeria - fortune in friendship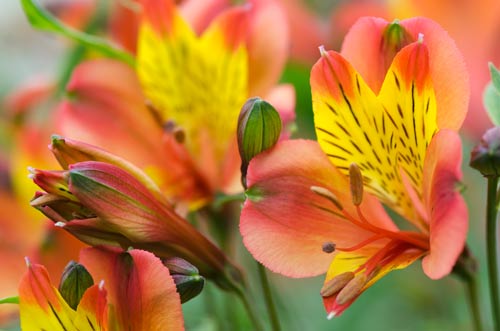 Alstroemeria (also known as Peruvian lily) is a beautiful, elegant flower that makes a statement on its own, or as part of a bouquet. It consists of approximately 50 species, with most species growing between 8 and 20 inches tall. Its simple beauty and long-lasting trumpet-flute petals make it one of the more popular florist flowers.
These flowers are known for their bright colours and long vase life, making them perfect luxury flowers for weddings or funerals.
Because this flower comes in many colours, giftees can select a hue to represent or evoke a particular emotion. Whether that be yellow for happiness and strength, white for purity and grace or pink for romance and adoration, this versatile flower makes for a gorgeous choice for every situation!
When thinking of that special someone, consider alstroemerias if you want vivid, delicate flowers. For allergy sufferers, this variant of the flower is ideal due to the complete lack of scent.
Origin:Peru, Brazil and the mountains of Chile
Vase life:7-14 days
Colour Range:White, pink, yellow and red are the most common colours
Best occasion:Often used as a wedding flower or part of a valentines bouquet.
Symbolism:Most commonly known to be symbolic of friendship, romantic love and devotion(colour dependant).
---
Dahlia - everlasting love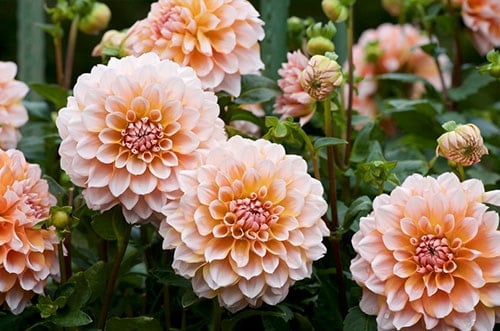 For a flower that embodies luxury, elegance, and beauty, look no further than the dahlia.
The dahlia, with its distinctive blooms and vibrant colour, has long been a staple of floral arrangements. With over 100 varieties, dahlias are a versatile choice for any occasion.
These flowers have a rustic appearance that pairs perfectly with your favourite suit or dress, and their simplicity makes them perfect for any occasion. Their wide blooms make them a popular choice for flower arrangements.
Cactus dahlias have a unique, cactus-like shape that's perfect for adding a little extra flair to a bouquet. Pompon dahlia blooms are another great option if you're looking for something a little more old-fashioned - these blooms are ball-shaped and look very ornamental against dark green foliage.
Origin:Dahlias are Mexico's national flower, but are grown across Europe
Vase life:Most variants last up to 5 days, with others lasting up to 7.
Colour Range:This fragrant flower is available in a wide range of colours: whites, pinks, reds, oranges and purples.
Best occasion:According to the language of flowers, dahlias symbolises gratitude, making these flowers a lovely 'thank you' gift.
Symbolism:The traditional meaning of the dahlia flower is that it represents love, joy and happiness.
---
Daisy - the delight of spring meadows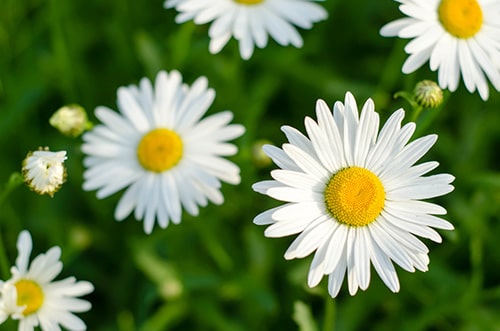 Daisies are a great gift for anyone. They're bright and cheery, and you can't help but smile when you see them. They're also versatile flowers - they look great as cut flowers or in a bouquet, and they can be used in all kinds of arrangements. So whether you're giving flowers to your mum on Mother's Dayor your best friend at work, daisies are sure to please!
It's no secret that the daisy we all know best (vivid yellow centre and petite tear-drop petals) radiates happiness. This long association with cheerfulness and radiance is what makes this flower so special and favourable amongst many.
However, you may be surprised to learn that there are actually more than 200,000 other species of daisies including the English daisy, the Gerbera daisy and the African daisy. Daisy lovers will be happy to learn that most variants are available all year round, meaning they can provide endless joy and cheer!
Fun Fact:The common name daisy originates from the Old English phrase 'Daes eage', which means 'day's eye.' This name came about because daisies close during the night, and then reopen in the morning.
Origin:Daisies are native to Europe and Asia, but they can be found in almost every continent (besides Antarctica).
Vase life:Cut daisies will last around 7-10 days
Colour Range: A plethora of colours are available - daisies come in multiple shades of red, pink, white and blue.
Best occasion:As daisies are historically known for their curative qualities, gifting daisies is a thoughtful way of saying 'get well soon'.
Symbolism:Daisy flowers are often associated with innocence and purity, but they can also represent the fragility of life. They're often seen as a sign of spring and new beginnings.
---
Carnation - a fragrant flower of love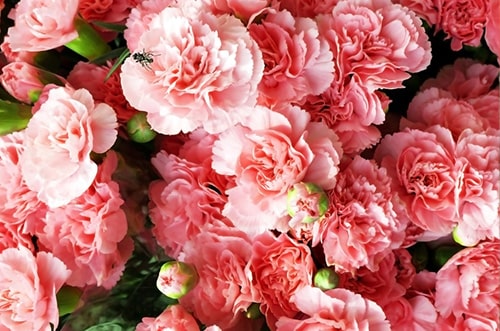 Carnation flowers are a classic choice for many flower arrangements and remain a popular flower choice for an array of celebrations and occasions.
You will find carnations in almost every colour of the rainbow, including red, pink and white - all of which carry significant meaning and symbolism.
Carnations are sweet, delicate flowers that are perfect for placing in the home.
The sweet, delicate fragrance of carnations is perfect for adding a touch of romance to any room.
They're colourful and bright, making them a great choice for birthdays, anniversaries, and other celebrations. Carnations also work well as sympathy flowers for a funeral, especially when paired with other plants like daisies or roses. They're also the birth flower for January, which makes them an excellent choice for anyone born in that month!
Fun Fact:In some cultures, certain colours or types of carnations are thought to convey different meanings. For example, purple variants are France's traditional funeral flower. This flower also represents motherly love, which is why they're often given as gifts on Mother's Day.
Origin:The carnation is native to Europe and Asia
Vase life:Up to 14 days or more
Colour Range:Carnations come in a wide range of tones; pink, white and red are the most popular colours.
Best occasion:.Weddings, mother's day, Valentine's day and funerals (colour dependent).
Symbolism:Purity, affection, motherly love, gratitude and sorrow
---
Chrysanthemum - the awe of autumn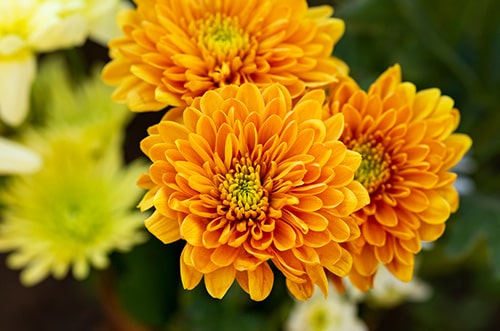 If long vase life is what you're searching for, this flower is for you. Chrysanthemums are one of the longest-lasting cut flowers, offering endless beauty to all that are gifted with them.
Chrysanthemums (also known as 'mum') are a beautiful, fragrant flower that is often associated with funerals and cemeteries. However, this does not mean that they can't be used in other ways! We've seen them on wedding bouquets, baby showers, and even as part of home decorating schemes.
Traditionally, the chrysanthemum is considered a beautiful autumn flower since it's one of the most colourful blooms in the season. It is also November's birth flower, so keep this in mind when purchasing gifts for a November wedding or birthday!
Fun Fact:Chrysanthemums have been used in herbal medicine since ancient times to treat fever, convulsions and heart disorders.
Origin:Chrysanthemums are thought to have come from China.
Vase life:Chrysanthemums have a long vase life and can last up to 3 weeks when properly cared for.
Colour Range:You'll find these flowers in almost every colour of the rainbow, the most popular colour being red, purple and white.
Best occasion: Chrysanthemums represent life and rebirth in Asia, making them an excellent gift for a new baby or baby shower.
Symbolism:They are famous for representing rebirth, well-being and friendship.
---
Calla Lily - the modern bride's favourite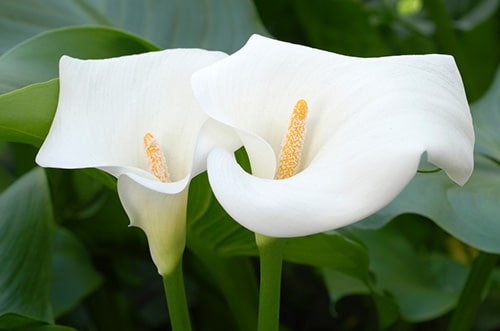 The calla lily is a firm favourite among our customers and is a particularly popular choice for wedding bouquets and corsages. The calla lily is known for its simplicity and elegance, making it an excellent choice for any occasion.
Calla lilies look particularly lovely when displayed with foliage stems and other small flowers. The contrast between their soft cream colour and the bright green of the leaves creates an elegant effect that will be sure to impress your guests.
The calla lily's symbolism varies depending on the colour and place, it's often considered a sign of new beginnings. In others, it signifies mourning and is therefore commonly used as a funeral flower.
Fun Fact:The word 'calla' is derived from the Greek word for beautiful, and its association with Hera, the goddess of women, marriage and childbirth, makes this flower a favourable symbol for many brides-to-be.
Aster - a gift from the gods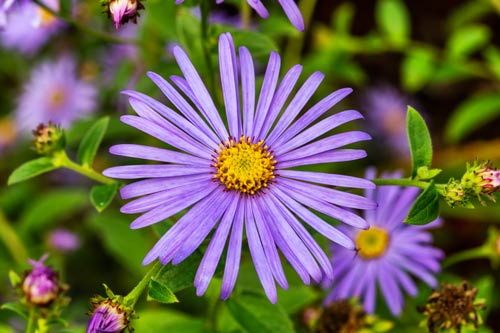 As a member of the daisy family, aster makes for a stunning and ethereal addition to any Spring or Summer bouquet. In recognition of its blooms' resemblance to stars, it earned the Greek name for 'star'.
It is believed that there are roughly 180 species of aster, with just the aromatic aster producing scent. They are famed for their wide range of purple tones as well as whites and softer pink varieties, all of which add an air of regality to any bouquet.
Aster flowers are popular as cut flowers and can be used to make wreaths and other arrangements for funerals, weddings and other occasions. You will most commonly spot this flower dotted in gardens and placed within homes due to its vibrancy and graceful appearance.
Fun Fact:In Greek mythology, asters symbolise power, faith, and wisdom, and were often placed on gods' altars.
Origin:Native to North and Central America, as well as parts of Eurasia.
Vase life:5-14 days
Colour Range:Purple, white, light pink and blue
Best occasion:Asters are September's assigned birth month flower, so they make the perfect bouquet for someone born in September.
Symbolism:Love, wisdom, patience, faith, elegance, and beauty are all symbols associated with asters. From nobility to friendship to purity, every colour has deep symbolism behind it.
Iris - the royal flower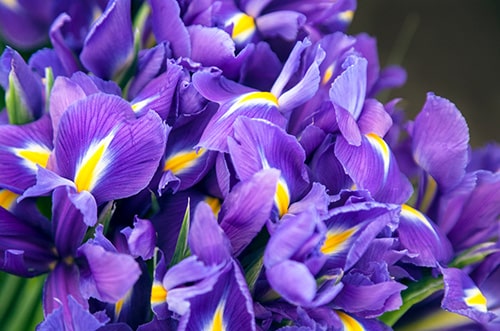 If you're looking for something truly unique and original, the iris flower is a great option.When you think of an iris flower, you might picture a sword-shaped petal with a deep purple colour and a unique aroma.
The iris is a flower that carries a rich history and deep meaning. It was used by the Greeks to symbolise the goddess of the rainbow, Iris, and it has since been associated with wisdom, courage, and beauty. This striking and alluring bloom is also associated with courage because its petals are often streaked with bright colours like red or yellow - the colours of fire and sunlight.
The iris flower is also often associated with royalty, but that doesn't mean it has to be reserved for special occasions! It can make an excellent addition to any home or office decor. Whether you want to add a touch of class or just want something beautiful on your desk, the iris flower is sure to do the trick!
Origin:There are roughly 280 species of iris in the world, with the majority said to be native to Europe and Asia.
Vase life:You can expect your iris flower arrangement to last up to a maximum of 7 days.
Colour Range: The iris flower comes in a wide variety of colours and types, ranging from pale shades of blue to bright orange.
Best occasion:There is no one occasion that the iris flower works well for due to the many meanings it carries. We recommend gifting this flower as a single or mixed arrangement for birthdays and wedding anniversaries.
Symbolism: Courage, wisdom, aspiration and wealth are all represented in the iris flower.
---
Orchid - hope, harmony and honour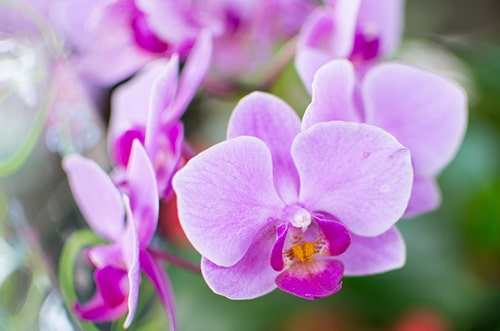 Orchids are extremely unique, delicate and exotic flowers that are widely used to promote happiness and calmness in any environment. You may have seen orchids in spas and relaxing gardens, due to their ability to soothe the mind.
This perennial's flowers stand out from other prominent flowering plants due to their intricate features. Most orchids feature double or clusters of flowers, while some exhibit single flowers.
Orchid flowers come in many different colours and shapes: red orchids symbolise passion; yellow orchids represent friendship; orange orchids symbolise desire; blue orchids are symbols of hope and faithfulness; purple orchids are used as tokens of royalty; white represents innocence and purity; pink orchids symbolise love.
Origin:The orchid is Columbia's national flower, and South America is said to have the highest number of this type of flower than any other continent.
Vase life:Cut orchids can last anywhere from 3-5 days, but well-cared-for potted orchids can last between 2-4 months.
Colour Range:You can get interesting tones and hues of orchids, some include white, yellow, red and bluer (the rarest colour!).
Best occasion:Due to their natural spiritual meaning and ability to promote harmony in any room,orchids make for a meaningful housewarming gift. They're also popular for wedding table decor and bouquets.
Symbolism:The main representations of an orchid are fertility, refinement and beauty.
---
Peony - a regal romantic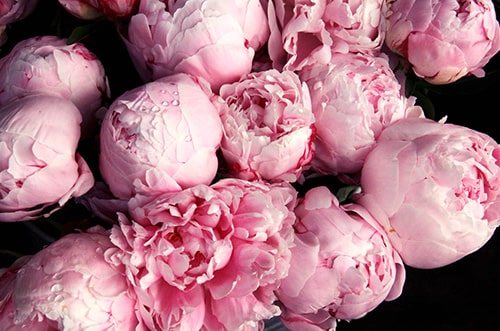 The peony flower is a timeless classic. Its voluptuous, royal beauty is perfect for any bouquet, especially when paired with other white flowers and greenery.
Peonies are one of the most beloved flowers in the world, and are particularly favoured as a Spring and Easter flower. Not only do they have a delightfully fresh scent that fills your home with springtime freshness, but they also add a regal touch to any room. Their blooms, which tend to be on the larger side, come in a variety of colours and shades, from soft pink to deep red. They can also be found in white and purple hues, but the blush pink is perhaps the most popular with customers.
The blooms of peonies can reach up to 10 inches wide, which makes them sure to capture the attention of anyone in the room!
Origin:The peony flower is native to both China and Japan.
Vase life:The beauty of a peony bloom can last around 5 days.
Colour Range:This flower can be found in both soft and vibrant colours including blush pink, white, red, orange and yellow.
Best occasion:An ideal occasion is a wedding, since peonies symbolise love and romance. A 12th wedding anniversary is also traditionally marked with them.
Symbolism:This flower is generally associated with love, happiness, wealth and romance.
---
Hydrangea - a classic charm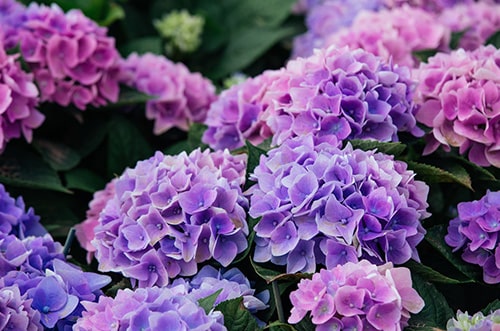 Hydrangea flowers are the perfect gift for summertime.It's a bouquet that promises to bring the outside in, as many flower lovers adore the many varieties of hydrangea!
With their big, beautiful blooms and classic colour palette, they're a classic choice for any bouquet. And with Hydrangea's large selection of varieties - ranging from bigleaf to mophead - you can find the perfect one for any occasion.
Bigleaf hydrangeas are characterised by their large, rounded flower heads and vibrant leaves. Mophead hydrangeas have smaller, more compact flowers that bloom on shorter stems than their bigleaf counterparts.
Whether you're looking for something simple and elegant or something more bold and vibrant, there's a hydrangea to suit your style!
If you're on the hunt for a flower arrangement that conveys your love (without even saying a word), hydrangea arrangements will do just that. This beautiful bouquet pairs well with other soft-colored blooms like tulips and roses to create a romantic and elegant look that will make your loved ones' heart skip a beat.
Origin:Hydrangea's origins can be traced back to China and Japan, where it was originally used as a medicinal herb.
Vase life:The vase life of hydrangea is approximately 10 days.
Colour Range:Hydrangeas come in a range of colours, including white, pink, blue, purple and red.
Best occasion:Hydrangea, the flower of fourth wedding anniversaries, is the perfect gift for your spouse to show them just how much you care.
Symbolism:The flower has several meanings: it can represent friendship, loyalty, and happiness. It can also represent triumph and victory in some cultures.
---
Sunflower - the staple of summer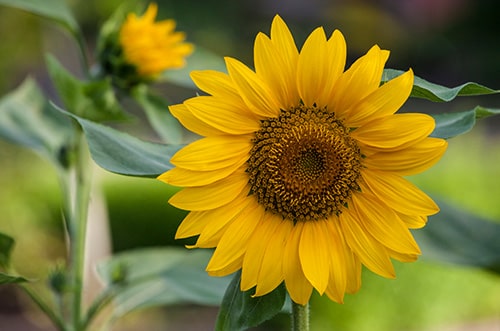 Nothing brightens someone's day more than a sunflower. With its gorgeous, brilliant height and petals and the way it seems to radiate light, it's no wonder that this flower is so beloved.
The sunflower has been long-regarded as a symbol of happiness and good fortune, and it's easy to see why. With their bright, cheerful faces and beautiful colours, sunflowers are a charming addition to any bouquet.
Moreover, this elegant flower has been a part of weddings for decades, but its popularity has skyrocketed in recent years. Many brides and grooms have selected sunflowers as part of their wedding, letting them play an integral part in creating a rustic, English country look.
So, if you're looking for flowers that will stand out in any room or vase, sunflowers are the way to go. They have an unbeatable combination of beauty, strength, and durability that will last for days without drooping.
Fun Fact:One of the tallest sunflowers ever recorded was 30 feet tall and required scaffolding to stay upright!
Origin:The sunflower plant is native to North America, where it grows wild in the prairies
Vase life:Sunflowers are known for their vase life -they can last up to two weeks without wilting.
Colour Range:You will find sunflowers in shades of mahogany, yellow, white, cream and gold.
Best occasion:Sunflowers are great for many situations. They can be used in bouquets, arrangements, or even just by themselves to brighten up your home or office.
Symbolism:As you may expect, sunflowers represent happiness and good fortune in many different countries.
Rose - the flower for romance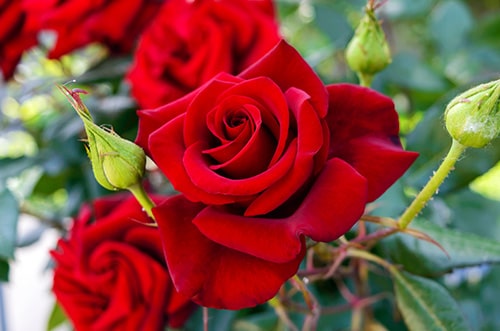 When you're searching for romantic flowers to send to a significant other, you're sure to think of roses.
Roses are timeless, elegant, and bold - and every woman's favourite.The colour range of roses is endless, so you can choose a bouquet that perfectly matches your loved one's personality.
Roses are a familiar sight, with their characteristic scent and beautiful flower petals. They're known for their rich history - the rose has been associated with romance since ancient times. These delicate flowers have been used for centuries to celebrate love, friendship, and all the other things that make life beautiful.
Roses with long stems are hybrid tea rose types that are most commonly used by florists and sold as cut flowers. These gorgeous blooms come in almost every colour imaginable, from classic reds and pinks to more exotic purple shades.
So,when Valentine's day approaches, don't hesitate to gift your other half with a dozen (or more) roses- this flower is always a hit!
Fun Fact:It is estimated that the oldest living rose is 1,000 years old! Hildesheim Cathedral in Germany has it mounted on its wall.
Origin:The rose is one of the oldest flowers, making its origin difficult to pinpoint. However, most species of rose are thought to grow in Asia.
Vase life:A standard cut rose can last up to 10 days, and preserved roses can last 21 days or even longer.
Colour Range:Imagine every colour in the rainbow, except black or blue. It's common for florists to produce multi-coloured or blue-hued roses using dye.
Best occasion:The rose is the definition of romance, by far! We suggest gifting a rose bouquet for any romantic occasion.
---
Anemone - the keeper of secrets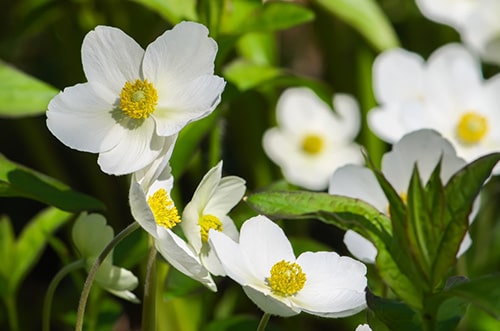 Looking for an impressive birthday bouquet or floral housewarming gift? Available in a wide range of colours, the showy anemone will immediately elevate any flower arrangement.
Far from the sinister, spiky creature of the sea, this flower is a graceful bloom packed with symbolism…
The anemone has a distinct role in many cultures around the world. In Greek mythology, it has romantic connotations and is connected to Aphrodite, the Goddess of Love. Meanwhile, in the East, the white variety is symbolic of bad luck and represents death. Two very different meanings!
As an early blossoming flower, the anemone is often connected to the arrival of spring.Its fragility is highlighted in the nickname 'windflower', referencing the ability of the wind to pick off its delicate petals.
Perfectly balancing elegance and impact, we love the anemone's graceful silhouette and vibrant colour palette. Its dainty petals and eye-catching dark centre look great with other spring flowering bulbs, such as tulips, daffodils, and lily of the valley.
Fun Fact:A flower fit for a fairy - in English and Irish folktales, it was believed that fairies would sleep within the petals of the anemone as they closed at night. It's important to note that no dainty wings are harmed in the process of arranging this gorgeous bloom!
Origin:Anemone flowers are native to Japan.
Vase life:If harvested as soon as they open, the anemone can last up to 10 days in a vase.
Colour range:This bright bloom comes in shades of white, pink, red, blue, purple, and yellow.
Best occasion:The anemone is a highly decorative flower and works well in a variety of seasonal bouquets and vase arrangements. Gift a stylish design to celebrate a birthday or to brighten up a Tuesday afternoon - the options are endless!
Symbolism:A complex flower, the anemone symbolises anticipation, mutual respect, bad luck, death, forsaken love, and coming fortune.
---
Cornflower - a painter's pride and joy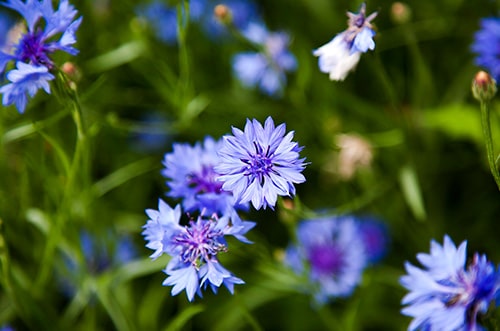 With its beautiful, almost sapphire shade of blue, the cornflower is the crown jewel of many flower arrangements.
Cornflowers are an eye-catching ornamental plant with a history of symbolism. In Ancient Egypt, the flower was likened to the blue lotus and represented life and fertility. As a symbol of fidelity and tenderness, it frequently appeared in Renaissance paintings to decorate the garments of goddesses.
The cornflower is also known as the Bachelor's Button, a nickname that arose from the old practice of men wearing a cornflower in their buttonholes as an indication of love or courting.
Originating in the cornfields of Southern Europe, the cornflower's vibrant energy and attractive colour transports us with its rich hues - reminiscent of the countryside, sunny blue skies, and the gentle breeze of summer.
As cut flowers, their deep colour and intricate detailing can elevate a classic bouquet or add a unique twist to a wedding bouquet.
Origin:The cornflower is native to Europe.
Vase life: Cornflowers can last up to a week or even longer with the help of floral preservatives.
Colour range:Cornflowers are known for their brilliant shade of blue, although white, red, pink, and purple varieties are also available.
Best occasion:In the language of flowers, cornflowers represent positive hope for the future and are a great way to say 'congratulations'.
Symbolism:Remembrance, anticipation, love, and prosperity.
---
Cosmos - a flower of the faeries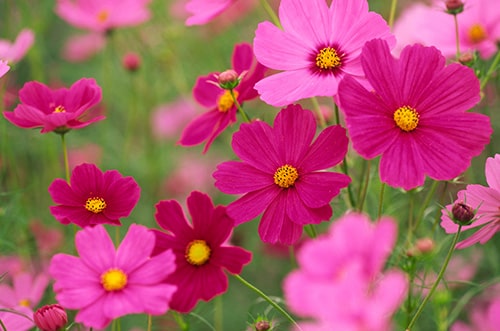 If you're a lover of the daisy, then you'll certainly be a fan of its bold and beautiful cousin! With lacy leaves, broad blooms, and perfectly symmetrical petals, the cosmos flower will add texture and variation to your bouquet.
With a distinctive, sugary fragrance and varied colour range, sunny meadows filled with cosmos flowers are as delightful and intriguing as an assortment of sweets.
Due to its uniform shape and upright structure, the cosmos is a versatile companion for any number of flower combinations. We love pairing this charming bloom with varieties of a similar size, like dahlias and marigolds, to create a sunny floral arrangement for birthdays and other celebrations.
Fun Fact:A flower of folklore, the cosmos is said to attract faeries to your garden - so keep an eye out for tiny wings and a twinkling trail of dust next time you're outside!
Origin:Like many warm weather annuals, the cosmos is native to Mexico and South America.
Vase life:As a cut bloom, this flower can last between 5 and 7 days in a vase.
Colour range:From the purest of whites to the deepest of browns - along with vibrant pinks, crimsons, and oranges - there are various colours to choose from!
Best occasion:As the cosmos flower is linked to the astrological sign of Libra, why not send a birthday bouquet to a loved one born between September 23rd and October 22nd?
Symbolism:Order, harmony, beauty, kindness, and infinity.
---
Craspedia - the beloved billy button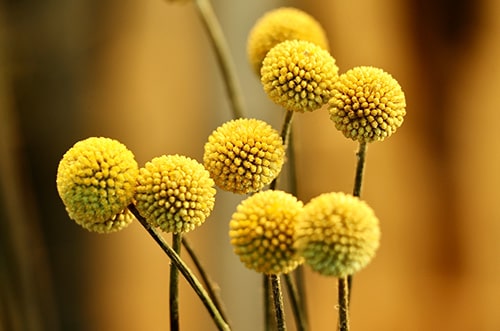 A close cousin of the daisy and sunflower, Craspedia is a jolly little flower that gives a new lease of life to meadows, back gardens, and floral displays.
Popular for its sturdy stalks and fuzzy, button-shaped flower heads, Craspedia is extremely versatile and unique. It can be used in a cut or dried form, retaining its colour and form for at least a week.
We love this flower for its ability to add zest to any arrangement - you can even tint the flower heads with various colours to create a bespoke look.
Over the years, Craspedia has become a popular choice at weddings and can be incorporated into multiple floral decorations. As an intriguing and not entirely feminine aesthetic, this flower is perfect for both men's boutonniere designs and bridal party bouquets.
As a more modern symbolism of love, affection, and admiration,Craspedia is perfect for a romantic setting, such as a wedding or even as an anniversary bouquet.
Fun Fact:Strike a pose! As well as being popular in floriculture, Craspedia is loved in the art and design world and is commonly featured in paintings, photographs, and even textiles.
Origin:With the ability to grow in several habitats, Craspedia is native to Australia and New Zealand.
Vase life:A sought-after cut flower, Craspedia can last up to 7 days.
Colour range:Craspedia naturally blossoms in shades of yellow.
Best occasion:The flower's connection to good health and recovery makes it the perfect choice for a cheerful get well soon bouquet. In fact, its positive connotations and sunny colouring are great for any number of celebrations, from birthdays to Father's Day and wedding anniversaries.
Symbolism:Good health.
---
Delphinium - vibrant and vivacious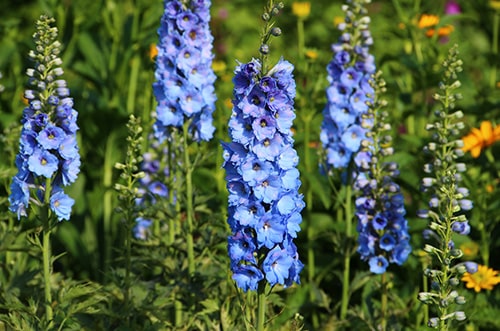 With a commanding presence and vibrant colouring, the delphinium will stand tall in any flower arrangement. Easily identified by its long green stalk and abundance of single or double flower stems, its charming presence can be found in the grounds of stately homes and quaint cottages.
There are numerous varieties, shades, and forms - each with its own symbolism. A blue delphinium is generally representative of dignity and grace but can also be linked to remembrance. In comparison, a pink delphinium is often used to celebrate new life and birth.
The name delphinium was derived from the Greek word 'delphis', meaning dolphin, due to the individual flower forms being reminiscent of this friendly mammal's elegant outline.
Boasting the understated beauty of summer gardens and being one of the official birth flowers of July, the delphinium signifies all things sunny, warm, and joyous.
Whether you're searching for the perfect birthday bouquet, token of affection, or a celebratory gift, the delphinium is the perfect centrepiece for any floral arrangement.
Fun Fact:According to Greek mythology, the Delphinium flower is said to have blossomed from the blood of the Greek god and Trojan war hero Aias.
Origin:The delphinium is native to the Northern Hemisphere, thriving in the cool and moist climate of the African tropics.
Vase life:At best, the delphinium can last between 5 and 8 days.
Colour range:With an array of rich indigos, purples, pretty pinks, and pure whites, this species has a range of eye-catching shades.
Best occasion:An extremely versatile flower, the delphinium is perfect for any celebration - from birthdays to anniversaries and even Valentine's Day.
Symbolism:Cheerfulness, protection, joy, and goodwill.
---
Eucalyptus - the protector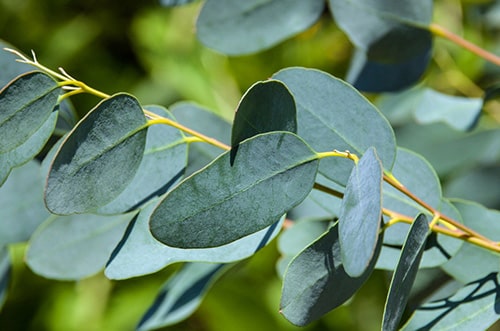 Offering a fresh variety of hues and shapes, the eucalyptus plant adds dimension and a burst of greenery to bouquets, flower arrangements, and table decor.
Particularly popular at weddings, its aromatic, slender leaves, and soft colour palette work as both a decorative feature and tasteful backdrop. Commonly paired with more romantic blooms, such as peonies, orchids, and roses, it works well with just about any style of arrangement - from classic and elegant to boho and modern.
Despite being seen as a tasty treat by koalas, this ornamental foliage is loved around the world for its energising and healing properties. Originally used as part of an Australian Aboriginal ceremony - in which the leaves were burned to purify and negate negative energy - the eucalyptus is considered a sacred plant.
Its calming scent has been described as a heavenly blend of rich, earthy tones and reinvigorating citrus or honey notes - making it the perfect addition to candles, baths, and body products.
Fun Fact:With several health benefits, many people hang fresh eucalyptus in their shower - helping to reduce anxiety and ease congestion.
Origin:The eucalyptus plant is native to Australia.
Vase life:Eucalyptus stems will last between 3 and 8 weeks in water.
Colour range:Eucalyptus is close to a sage-green in colour, with undertones of blue, silver, and grey.
Best occasion:Eucalyptus is a popular addition to wedding flowers, adding a burst of fresh foliage to any style of arrangement or bouquet.
Symbolism:Strength, protection, and abundance.
Freesia - a dainty silhouette
A springtime sweetheart, the freesia is the picture of elegance. With the colour palette of precious gems and a refreshing, citrusy scent, you can see why the freesia flower is loved by so many around the world. Its long-lasting blossoms, elegant structure and upward-facing petals make it a favourite for displaying in a vase or gifting in bouquets.
The freesia has striking, funnel-shaped flowers and bilaterally symmetric blooms that have often been likened to the dainty silhouette of a dancer, hence the common nickname 'ballerina'.
Named to honour friendship, the freesia has sentimental value and is the perfect gift to show your best friend just how much you love them! However, as with many types of flowers, each of the freesia's various hues has a unique meaning.
'Belleville' is one of the most well-known varieties, with pure white flowers that symbolise innocence and purity. Hugely popular at weddings, this particular freesia is an ideal choice for flower girls.
A fiery combination of vivid red and lemon-yellow, the 'Oberon' variety certainly steals the show! It is also the most fragrant and the symbol of passionate love - perfect for sending as a romantic gesture.
Fun Fact:The freesia flower has its very own festival! Every year, a magnificent display of hundreds of thousands of freesias can be seen on Hachijojima island in Japan.
Origin:Belonging to the Iris family, the freesia flower is native to South Africa.
Vase life:Up to 3 weeks, if cut when still in bud.
Colour Range:Freesias bloom in an impressive spectrum of colour, from whites and creams through to reds, oranges, pinks, mauves and lavendars.
Best occasion:Freesias are traditionally gifted on the 7th wedding anniversary.
Symbolism:Lasting friendship, sweetness, innocence and trust.
Gladiolus - strength of character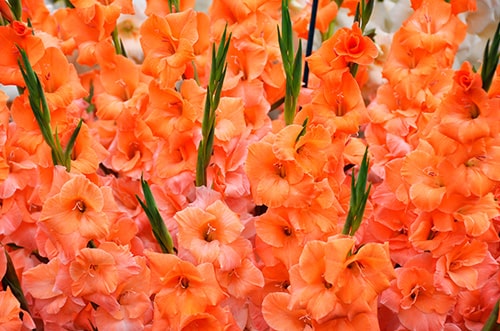 Among the top best-selling florist flowers worldwide, it's fair to say that we are big fans of the gorgeous gladiolus. As a cheerful and versatile flower, its uplifting presence elevates any bouquet - a gift for all occasions!
While there are plenty of other flowers that complement the gladiolus well, a colourful display of gladioluses, roses, irises, and lilies is our idea of heaven!
Connected to the Greek goddess of harvest and agriculture, the gladiolus transports us to the kaleidoscopic hues and joys of summer. Popular in gardens and contemporary floral arrangements, its flamboyant petals are sure to brighten up the home.
As a statement flower, the gladiolus is typically reserved for the most special of occasions, including Valentine's Day and birthdays. It is also the traditional 40th anniversary flower.
Whereas a pink gladiolus represents a mother's love and a fitting token of appreciation, a yellow gladiolus is the ultimate symbol of positivity and joy, so keep this in mind if you have a graduation coming up!
Fun Fact:In the Victorian language of flowers, the sword-like gladiolus is symbolic of 'piercing' a lover's heart.
Origin:The gladiolus flower is native to South Africa and the Mediterranean.
Vase life:Up to a week.
Colour range:With over 250 species of gladiolus, pink, red, white, purple, yellow, orange, and green are the most common colours.
Best occasion:One of the birth flowers of August, the gladiolus makes a delightful summer birthday bouquet.
Symbolism:Strength, faithfulness, moral integrity, and remembrance.
Gypsophila - the wedding favourite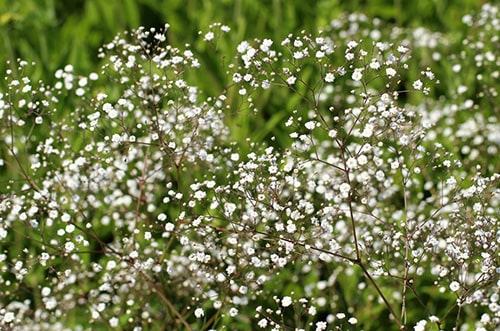 One of the most iconic wedding flowers, the timeless Gypsophila has certainly earned its place in the flower hall of fame.
This beautiful bloom is commonly used in traditional bridal decor, as well as Valentine's Day gift arrangements. We've also seen Gypsophila in flower displays at baby showers- unsurprising given its nickname of Baby's Breath!
Gypsophila typically blooms between the end of spring to early summer. Its light, sweet fragrance, intricate lacy detailing, and cloud-like texture make it a popular accent flower. The tiny delicate florets create a softening effect said to capture the elated feeling of love - how dreamy!
We would recommend combining your Gypsophila with statement flowers, such as roses and tulips. For more of a rustic look, why not display your Gypsophila in a mason jar?
If you're a fan of bold bouquets or after a bespoke floral arrangement, then look no further than this pick. The white variety of these fluffy flowers can be dyed virtually any colour, for any style of floral arrangement.
Fun Fact:A treat for the eyes and the taste buds - Gypsophila is used in many cuisines as an edible garnish on desserts and herbal cheese.
Origin:Gypsophila is native to Europe, Asia, and North Africa.
Vase life:A popular accent or filler flower in bouquets or vases, Gypsophila can last at least a week.
Colour range:Gypsophila has an elegant colour range of white and pale pink.
Best occasion: A popular and versatile wedding flower, Gypsophila can be used in bridal bouquets, boutonnieres, flower crowns, and even corsages.
Symbolism:Innocent love, new beginnings, purity, and happiness.
Gerbera Daisy - the perfect pop of colour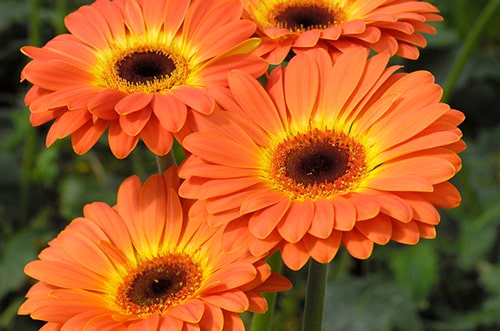 The gerbera daisy is also commonly known as the African daisy due to this flower blooming in South Africa. However, whilst it is native to Africa, the plant has since been introduced into Asia and Latin America.
Gerbera daisies were first described in 1889 by Joseph Dalton Hooker for Curtis' Botanical Magazine - Hooker was a British botanist and explorer during the Victorian era. These plants were brought to England after being discovered in South Africa, with their popularity soon spreading further into Europe.
The Netherlands is now one of the biggest gerbera daisy distributors in the world, stemming from this initial introduction decades ago.
Gerbera daisies are perennial flowers that bloom in a multitude of different colours - including pink, orange, yellow and red - although the centre of the flower is often black.
Origin:These plants were originally native to South Africa, although they've spread massively since then
Vase life:Between 1 and 3 weeks
Colour range:Pink, orange, yellow and red
Best occasion:Gerbera daisies are often used for happy occasions, such as weddings or birthdays, due to their bright flowers
Symbolism:These flowers have different symbolism depending on the colour of the flower. Pink is a sign of adoration and admiration; red is a symbol of love; yellow is a symbol of joy and celebration
Honeysuckle - the flower of pure happiness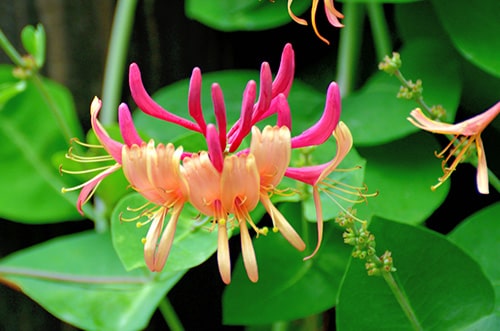 If you're after a sweetly scented, joyous flower then the heavenly honeysuckle is the perfect bloom for you.
A staple of summer, the honeysuckle's warm colour palette of peaches, pinks, and purples makes a beautiful addition to any bouquet. The perfect partner to lilacs and English roses, opt for this bell of the ball if you're a fan of aromatic floral arrangements.
There are approximately 180 species of honeysuckle shrubs and vines, classified by their elongated tubular shape and intoxicating fragrance. They typically bloom during the warmer months, with their promising nectar attracting hummingbirds, bees, and other pollinators from afar.
As a symbol of pure happiness and all things sweet, the honeysuckle has been likened to the eternal flames of love. The trumpet-like flowers are even arranged in pairs, creating the picture of a lover's embrace. Many also believe that adding a honeysuckle to your home brings good luck and fortune.
Fun Fact:Not just for decoration, the honeysuckle was once used to ensure pleasant dreams. Today, the flower is popular in the manufacture of herbal pillows.
Origin:The honeysuckle is native to the Northern Hemisphere, primarily China, Europe, Asia, and North America.
Vase life:The honeysuckle stays in good condition for up to 10 days in a vase.
Colour range:This species has a wide spectrum of colours, from creamy whites, yellows, and peaches to more vibrant shades of pink, red, and purple.
Best occasion:Alongside the iconic rose, the honeysuckle is also the birth flower of June. Its sweet aroma and cheerful colouring are sure to brighten up anyone's birthday.
Symbolism:Happiness, sweetness, nostalgia, and affection.
Lavender - a flower of sweet dreams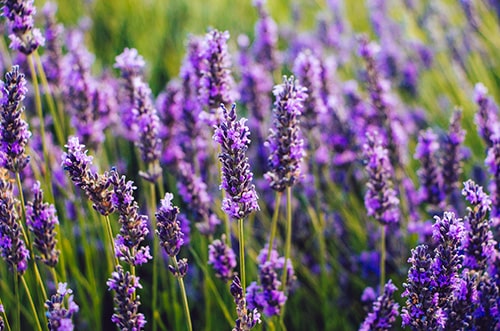 The pride of Provenance and English country gardens, we love lavender for its relaxing aroma and vibrant shade of purple.
Long considered a herb of love, this flower is truly a wonder. In the language of flowers, it is seen as a symbol of devotion and purity of heart. Lavender bouquets are a lovely gift to send to your significant other for a special occasion or just to say 'I love you'!
If you want to keep the flowers looking fresh for longer, we would recommend opting for a dried flower arrangement.
Although a colour often associated with royalty, its recognisable purple tone has been adopted by many as a symbol of calm and serenity. Popped under your pillow or added to your bath oil, lavender isn't just an ornamental plant and is commonly used for its refreshing fragrance and soothing properties.
Fun Fact:Another royal family favourite, Queen Victoria was a huge fan of the lavender flower and regularly drank lavender-infused tea.
Origin:Lavender is widely believed to have originated from the Mediterranean, the Middle East, and India.
Vase life:Cut lavender can last up to 10 days, but is best when dried.
Colour range:An iconic shade associated with tranquillity, the lavender flower is commonly a purple colour. It can also be found in white, pink, and blue-violet.
Best occasion:Lavender is a must-have for the home and a wonderful gift for any occasion.
Symbolism:Purity, devotion, serenity, grace and calmness.
Lilac - the spiritual bloom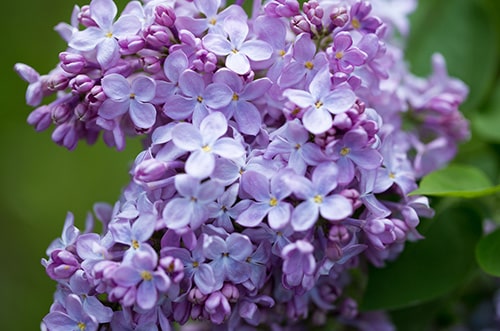 With the start of spring comes new beginnings, the cheerful chirping of birds, and lilacs of course! Every year, these fragrant clusters of small-petalled flowers bring a joyful wash of purple and pink hues to our landscapes.
Not just for your grandmother's garden, lilacs are a favourite in floral arrangements - adding height and a touch of elegance. In a vibrant seasonal bouquet, they are the perfect companions to bulb plants like daffodils and tulips, as well as peonies.
Off to a housewarming party but not sure what to bring? Linked to the coming of spring, a bunch of lilacs makes a great gift to say congratulations.
Known as 'Queen of the Shrubs' for its heady scent, magnificent colouring, and hardiness, lilacs certainly make an impression. Although widely recognised as symbolic of the joy of youth, each colour has its own unique meaning. A lighter shade of purple represents first love while magenta means intense passion. Both can be used to make a romantic statement to your significant other.
Fun Fact:Luckily, lilacs are not toxic to you or your furry friends! In some cultures, the blooms are used as an ingredient in fried fritters!
Origin:The lilac is native to Eastern Europe and Asia, but quickly became popular in America when it was brought over in the 17th century.
Vase life:Cut lilacs last between 3 and 4 days in a vase.
Colour range:Lilacs can be found in a variety of purple hues, pinks, creams, and whites
Best occasion:This enchanting flower is traditionally used to celebrate the 8th wedding anniversary.
Symbolism:First love, romance, spirituality, infatuation, and renewal.
Lily of the Valley - a fairytale romance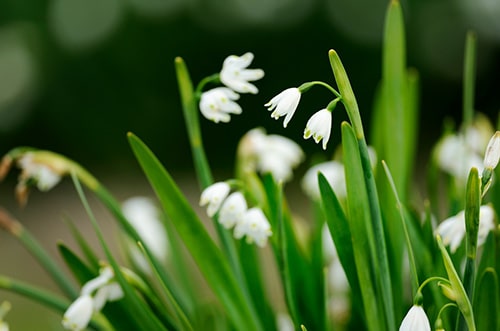 A sophisticated and delicately scented flower, lily of the valley is used in ceremonies, celebrations, and even perfume around the world. A member of the lily family, this flower has remained a classic and is frequently included in wedding bouquets as a symbol of purity and sweetness.
Intrinsically tied to the spring equinox and Germanic goddess Ostara, the dainty, bell-shaped blooms are widely celebrated in the month of May and make a beautiful addition to a spring bouquet. Traditionally, a bunch is gifted to a loved one on the 1st of May.
Once a staple for country estates or castle grounds, lily of the valley has become a household favourite - with the joyful, pure white petals bringing a touch of elegance to gardens, dining tables, and windowsills alike.
Fun Fact:Lily of the valley was the late Queen Elizabeth II's favourite flower and was featured in her coronation bouquet.
Origin:Lily of the valley is native to parts of Eurasia and North America.
Vase life:In a small vase or container, lily of the valley can last up to a week when kept in cool conditions with medium light.
Colour range:Although commonly a white shade, there are many varieties that produce blooms with a pink tinge.
Best occasion:As the birth flower for May, lily of the valley makes a delightful birthday gift - alongside a card and some delicious chocolates.
Symbolism:Purity, youth, joy, sincerity, and rebirth.
Lupin - a gift of inner strength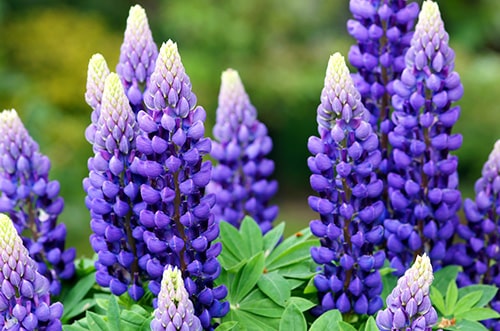 As a statement flower, the lupin delivers on height and colour. If you're looking for a touch of drama, this tall perennial makes a spectacular vase arrangement or centrepiece design. We would recommend pairing with ornamental grasses and other summer flowers, such as delphiniums and bearded irises.
Making brilliant cut flowers, their bold spires are packed with vibrant, pea-like blooms. Although famed for its blue and purple tones - hence the popular Bluebonnet variety, which is the state flower of Texas - there's a lupin for every colour scheme imaginable. From muted creams and blush pinks to fiery oranges and reds, this showstopping bloom can be used to elevate any style of floral arrangement.
Loved for its exotic shape and honey-like scent, the lupin is the staple of English country gardens and deeply rooted in Native American myth. Its ability to thrive anywhere and transform barren landscapes into breathtaking views is closely linked to its relevance as a symbol of determination, new opportunities, and hope for the future.
Origin:A member of the legume family, lupins are native to the Mediterranean and the Americas.
Vase life:This flower will last up to 7 days in a vase.
Colour range:A truly majestic colour palette, lupins can be found in white, yellow, pink, red, blue, and purple.
Best occasion:Associated with positive energy and overall happiness in the language of flowers, the lupin is often sent as a gift to a loved one recovering from trauma or to wish good fortune.
Symbolism:Imagination, admiration, and inner strength.
Monkshood - a bloom of myth and legend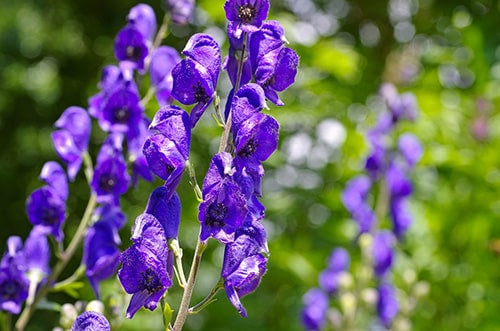 Among the pretty pastels and delicate blooms of late summer, you'll find the vivid purple spires of monkshood.
Unlike the dainty daisy or charming sunflower, monkshood has a slightly more sinister history. During the Dark Ages, the flower was associated with the condition of 'werewolfism' and appears frequently in European folklore as an ingredient in witches' brews and ointments.
Although famed for its toxic properties, having been featured in the works of Shakespeare, Keats, andHarry Potter,we love monkshood for its entrancing, gothic beauty and ability to add instant drama to bouquets.
It can grow to an impressive 4-feet tall, with hood-like blossoms that lend the flower a mystical aura. Monkshood's highly pigmented tones look stunning in contemporary floral arrangements or can even be used to add a point of interest to bridal bouquets.
Fun Fact:Also known as 'Wolf's Bane', the juice from monkshood roots was once used in the tips of arrows for hunting wolves - so handle with caution and keep out of reach of children or pets!
Origin:Although said to originate from the toxic saliva of the three-headed dog Cerberus, this perennial plant is actually from the mountainous regions of Europe and the Himalayas.
Vase life:Monkshood stays vibrant for up to 10 days.
Colour range:Yellow, blue, and purple.
Best occasion:Monkshood is ideal for more dramatic floral arrangements and late summer to autumn birthday gifts. It is also used to add depth to funeral wreaths.
Symbolism:In the language of flowers, Monkshood symbolises treachery, caution, and danger.
Nerine - an ethereal wonder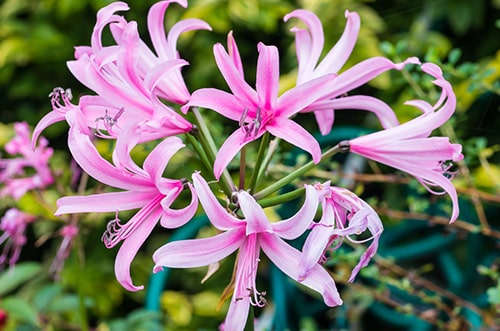 Also known as the 'Guernsey Lily' in the UK, the nerine is an extremely versatile flower. Characterised by shimmering petals, bright hues of pink, orange, and red, and a star-like form, this bloom is a beauty!
The nerine flowers in late summer and early autumn - generally between the months of August and October.
With its feminine appearance and elongated stems, the nerine is often used to add a touch of sparkle to tall vase displays. It also introduces a pop of colour to rustic cottage-garden or more contemporary bouquets. We recommend combining with other late bloomers, like dahlias, echinacea, and rudbeckia.
The name 'Nerine' is believed to be a reference to the 50 beautiful daughters of the sea-god Nereus - hence the flower's almost ethereal quality and connection to prosperity. Much like the spellbinding sea nymphs of Greek mythology, the nerine is truly a mesmerising flower.
Origin:The nerine flower is native to the cape of South Africa.
Vase life:With the correct treatment, this flower can last between 12 and 14 days in a vase.
Colour range:Glistening whites, pinks, oranges, and reds.
Best occasion:The nerine makes an impressive present for any occasion but is often used as a sign of affection or celebration of love. Got a special date or anniversary coming up? With a romantic colour range and natural shimmer, there's no need for added bows or sparkles!
Symbolism:Freedom, good fortune, union, free spirit, and love.
Nigella - the bloom of many names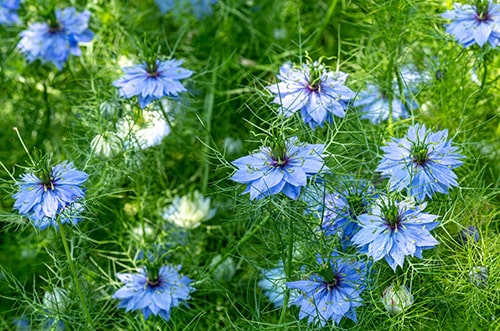 Love-in-a-Mist, Devil-in-the-Bush, Hair of Venus… there are many names for the enchanting nigella.
A true gem of the flower world, this delicate old-fashioned bloom belongs to the buttercup family and is often seen in traditional cottage gardens. Prized for its captivating colour palette and unique, wispy foliage, the star-shaped petals add a pop of magic to bouquets, containers, and baskets. The seed pods can even be used in dried floral arrangements for added texture and volume.
If its entrancing beauty wasn't enough to win your affection, the nigella is also deeply immersed in folklore. Shrouded in mystery, this flower is valued across many spiritual traditions for its magical qualities and used as an ingredient in love spells.
Miss Jekyll is one of the most popular nigella varieties, with its attractive, feathery flowers, and pastel-blue shade. If you prefer a more romantic arrangement, Persian Rose and Mulberry Rose offer a range of powder pink and fuschia red tones that perfectly complement roses and sweet peas.
Origin:The nigella flower is native to Southern Europe and the northern regions of Africa.
Vase life:Between 7 and 10 days.
Colour range:Flowers usually come in a range of blue tones, as well as white, pink, and lavender.
Best occasion:Whether you have a special occasion coming up or a date night to plan, why not impress your significant other with a spellbinding floral bouquet?
Symbolism:Harmony and love.
Phlox - the flower of harmony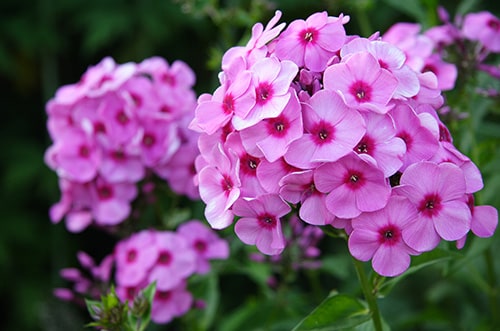 If you're looking for the perfect summer bouquet, then the phlox is an ideal choice. With large, vibrant clusters of flowers and a warming, vanilla-like scent, this bloom is the prize of cottage gardens everywhere.
This low-maintenance flower blooms throughout the summer months and makes an excellent cut flower for various styles of arrangements. Combine with dahlias and lilies in bright shades for a cheerful bouquet. Alternatively, to create a whimsical or romantic feel, opt for more muted tones and blend with roses.
Like many plants symbolic of unity and peaceful connections, the phlox is often used in feng shui to encourage harmony in the home.
This flower is also deeply linked to love, promoting healthy relationships and harmonious connections. Throughout history, it has been used as a romantic gesture and even to indicate a marriage proposal - with those gorgeous blooms, who could say no?!
Fun Fact:A flower with a fiery past - in Ancient Greece, the phlox was believed to have been created from the discarded torches of men journeying into the underworld, representing their bravery.
Origin:The phlox plant is native to North America.
Vase life:Up to a week, if handled with care.
Colour range:Blue, purple, pink, magenta, red, and white.
Best occasion:With rich symbolism and a range of shades to explore, the phlox is great for just about any occasion - no matter how big or small. Said to boost productivity and encourage harmony in relationships, it is also a great office flower!
Symbolism:Harmony, partnership, compatibility, unity, and sweet dreams.
Poppy - a flower of rememberance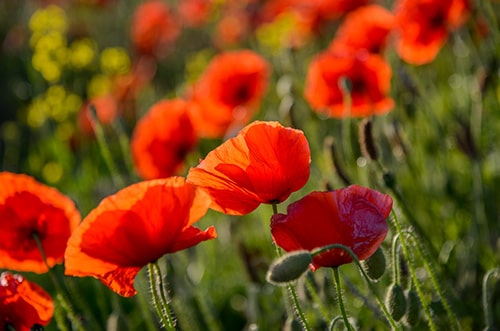 Whether you're familiar with the traditional red remembrance poppy or the sunny orange hues of the California variety, this beautiful flower is celebrated by cultures around the world.
With bold, bright petals and deep symbolism, poppies are a meaningful addition to summer floral arrangements and wreaths. We've also seen this flower becoming an increasingly popular choice for bridal bouquets, adding a splash of colour and a playful twist.
Each variety has a distinct meaning, with the red poppy being synonymous in Europe and North America with Flanders Fields and the enduring message of remembrance and hope for a peaceful future. It is also symbolic of sleep, dreams, and imagination - just like in The Wizard of Oz!
Other colours - including pink, blue, and purple - are considered symbols of success, love, and luxury.
Known as 'the flame flower' or 'cup of gold', the California poppy grows in abundance throughout the state and has been awarded its own week of celebrations.
Origin:The poppy is native to the ancient land of Sumer (now modern-day Iraq and Kuwait).
Vase life:Although stunning cut flowers, poppies only last between 2 and 3 days in a vase.
Colour range:With 8 different varieties, the poppy covers every colour in the rainbow - from yellows, blues, and pinks to the more famous reds and oranges.
Best occasion:The poppy is the birth flower for August and the perfect gift for a summer birthday.
Symbolism:Remembrance, sleep, imagination, dreams, and success.
Peace Lily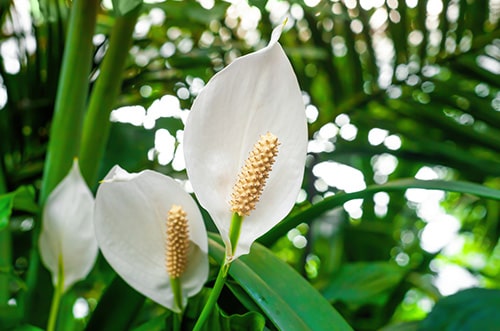 With silky flower-like spathes and glossy green, elongated leaves, this low-maintenance plant is the picture of grace and tranquillity.
Its official title is Spathiphyllum, which is derived from the Greek: 'spath' and 'phil', referencing the peace lily's unique, spoon-shaped leaf. The plant's annual blossoming is tied to its representation of hope.
As the name would suggest, this flower is the ultimate symbol of peace - with its spathes being likened to a white flag of surrender. It is also recognised for its unity with the surrounding environment, restoring balance and emanating positive energy.Perfect for a stressful work atmosphere or to bring harmony to the home.
A popular house and office plant, the radiant peace lily is easy to care for and does not have much of a fragrance. With the ability to remove toxins and purify the air, along with its refreshing colour palette, this flower is favoured in feng shui and brings a wash of calm to any space.
Fun Fact:As well as its connection to a woman's emotions, the peace lily is a Christian emblem of virtue and is linked to the Virgin Mary's purity.
Origin:Native to the tropical regions of the Americas and Southeastern Asia, the peace lily was originally discovered in the Columbian jungle.
Vase life:One of the most classic houseplants, the peace lily can last up to 6 weeks in water.
Colour range:Peace lilies can be classified by their white flowers and dark green leaves.
Best occasion:This plant is often used to express sympathy and is commonly included in funeral flower arrangements.
Symbolism:Peace, innocence, purity, healing, and hope.
Snapdragon - a force to be reckoned with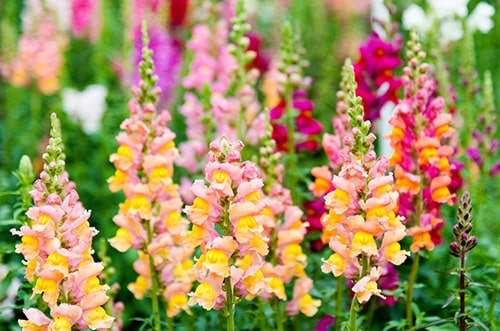 The ultimate symbol of grace and strength, the snapdragon is characterised by its slender stalk, snout-like shape and bright colouring. These short-lived perennial plants have a captivating bloom and an even more intriguing symbolism.
With their unique appearance and delightful, fruity scent that intensifies at night, these flowers appear otherworldly. There are many popular varieties of snapdragon, each with a name that takes you back to the magic of fairy tales and the stage. For instance, the Madame Butterfly is identifiable by its large double blooms whereas the Black Prince has a deep purple tone.
Never mind ring a ring o' roses - this flower has been featured throughout European folklore as a protective charm against witchcraft and ageing. Snapdragons are also associated with deception and were historically thought to cloak women from unwelcome affections.
The snapdragon is a popular choice for adding a touch of drama and height to flower arrangements,transforming a classic bouquet into a statement piece. This flower is a great ornamental plant and works well when combined with pansies and violas in a mixed display.
Fun Fact:The flowers of the snapdragon plant can open and shut like the mouth of a dragon - hence its name.
Origin:The snapdragon originates from the west of North America and the western Mediterranean region.
Vase life:Snapdragons are the perfect choice for bouquets and can last for up to 2 weeks.
Colour range:White, yellow, orange, red, pink or, in some cases, lavender.
Best occasion:The snapdragon's unique appearance and overall symbolism make it an incredibly versatile flower and perfect for a heartfelt token of affection.
Symbolism:Strength, grace, passion, and virtue.
Sweet Pea - summer's sweetheart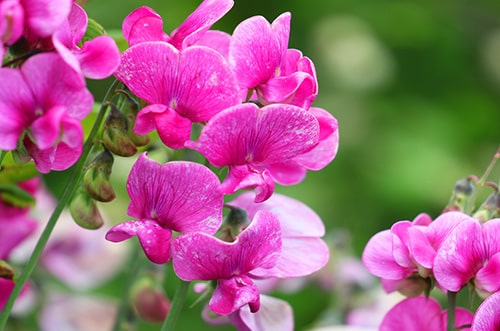 With its fluorescent colour palette and candy-like perfume, how can we resist the charm of the sweet pea? A firm favourite, this flower has been the delight of flower shops, spring weddings, and country gardens for years.
As a climbing plant, this flower is easy to cultivate and comes in a wide variety of colours. Its upward growth and versatility make it ideal for numerous floral arrangements, from pretty vase displays for dressers to more dramatic designs.
Much like its darling appearance, the many varieties of sweet pea have endearing names. These can be distinguished by their varying fragrance strengths and colour pattern. 'Prima Ballerina' is characterised by its delicate palette of pink and lilac; 'Strawberry Sundae' is a mouth-watering blend of rose, pastel pink and cream; 'Apricot Sprite' is an electric coral shade - to name a few!
Fun Fact:In French culture, the sweet pea is regarded as a good omen and often given to a bride for luck on her wedding day and in marriage.
Origin:Although considered quintessentially British, sweet peas are native to the sunnier climates of Southern Italy, Sicily, and Cyprus.
Vase life:Up to 5 days.
Colour range:With one of the widest colour ranges, this flower comes in shades of white, pink, coral, red, violet, and blue.
Best occasion:One of April's birth flowers and one of the most quaint blossoms, the sweet pea is a popular choice for spring birthdays and weddings.
Symbolism:Bliss, good wishes, gratitude, friendship, and kindness.
Tulip - the Dutch darling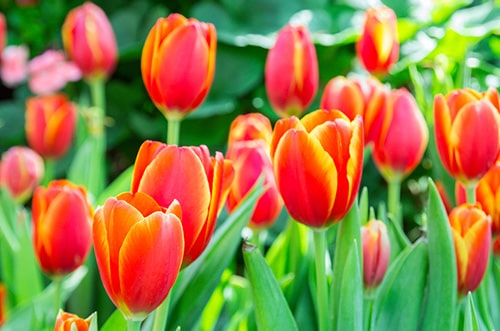 With their symmetrical shape and striking shades, the tulip is loved by many around the world. This plant flowers in spring and is associated with rebirth and new beginnings. If you want to give your home a fresh look and add a new lease of life, the tulip is the flower for you!
With plenty of tulip varieties to explore, there's a colour for every occasion and individual taste. So, whether you're a lover of all things bold or prefer more of a muted palette, you can be sure to find the perfect flower for you or your loved one.
Each tulip colour has its own meaning and can be used to convey different messages. White tulips are linked to purity and respect and are often incorporated into religious ceremonies, like a baptism or bar mitzvah. Yellow tulips are representative of happiness and prosperity while red and pink tulips have romantic connotations.
Although a universally popular plant, Holland has become closely associated with tulips - where each spring, the landscape is transformed into a rainbow of blossoming flowers.
If you're searching for the perfect gift for your girlfriend, then look no further! A single tulip is often seen as the ultimate expression of love and affection.
Origin:The tulip was originally discovered in the mountains of Kazakhstan.
Vase life:Tulips can typically last up to 12 days in a vase, as long as they are well watered.
Colour range:Renowned for their bright colours, tulips can be found in a range of shades - red, pink, orange and yellow.
Best occasion:This classic flower makes a great year-round gift for family and friends, whether for Mother's Day or to celebrate a loved one's birthday. They are also the flower typically used to mark the 11th wedding anniversary.
Symbolism:Hope, perfect love, rebirth and charity.
Tuberose - bridal beauty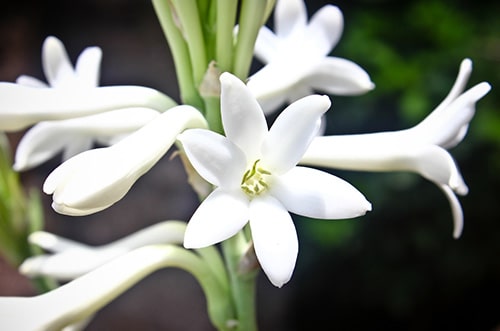 A deeply sensual flower, the tuberose is known for its intense perfume and delicate star-shaped blooms. If you have a romantic occasion coming up or want to impress your significant other, then a tuberose bouquet is the perfect gift.
The tuberose is characterised by a tall stalk with clusters of waxy flowers that bloom at night, with single and double-flowering types. Picture warm summer evenings filled with a rich honey-jasmine scent - heaven!
'The Pearl' is one of the most well-known varieties, with exquisite, creamy double flowers. As its name would suggest, this flower is particularly captivating and a popular choice for bridal bouquets. 'The Pink Sapphire' is another favourite, with beautiful, rose pink blooms perfect for summer floral arrangements.
Fun Fact:A forbidden flower! Victorians believed that the bewitching scent of the tuberose was overwhelmingly erotic and young women and girls were forbidden from visiting a tuberose field.
Origin:The tuberose flower is native to Mexico.
Vase life:Between 7 and 10 days.
Colour range:White and pastel pink are the most common colours - however, the tuberose can also be found in orange, purple and yellow.
Best occasion:The multiple meanings of the tuberose make it a particularly versatile flower and, due to its sturdiness and long-lasting scent, it can be used in a variety of arrangements. The classic cream shade is a staple at weddings while the intensity of the pink shade is ideal for a date night.
Symbolism:Elegance, passion, lust and attraction.
Veronica - the flower of loyality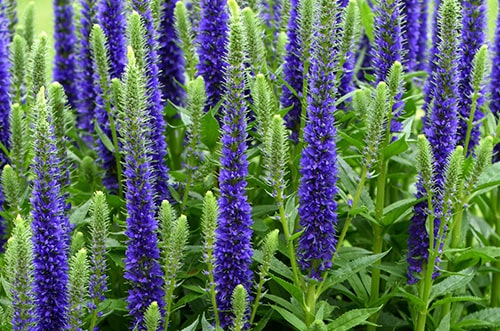 We love a classic cottage garden flower, and the Veronica is no exception! Characterised by its attractive spires of calming blue, pink and purple shades, this bloom is a staple of summer and requires minimal care.
A close relative to the snapdragon and foxglove, the Veronica plant's elongated shape and multiple florets add vertical interest and texture. It is an ideal accent flower for seasonal bouquets and show-stopping centrepieces, for numerous occasions.
Famed for its dreamy blue colouring, Goodness Grows and Sunny Border Blue are among the most popular varieties.
Nicknamed 'Speedwell' for its medicinal qualities, the Veronica is a particularly tough flower and an emblem of enduring beauty. Its connection to Christianity and, more specifically, Saint Veronica has earnt it a place in symbolic gardens and led to its association with healing, protection and recovery. This deep symbolism has made the delicate bloom a popular choice for get well soon bouquets.
Fun Fact:Not just for show, the Veronica flower was regarded as a miracle healing herb in Ancient Rome. Today, some cultures still dry the herb to use as a remedy for sore throats.
Origin:With the ability to endure harsh conditions, the Veronica flower has origins in Europe and East Asia.
Vase life:The expected vase life of the Veronica is a minimum of 5 days. Keep in cold conditions to prevent petal loss.
Colour range:Blue, purple, pink and white.
Best occasion:Signifying fidelity and love, the Veronica is a popular summer wedding flower.
Symbolism:Loyalty, healing, devotion and fidelity.
Waxflower - pretty in pink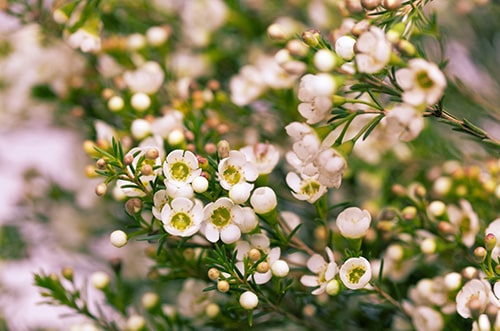 We love using the evergreen waxflower as a filler in floral arrangements - its delicate blossoms and vibrant foliage are often used to enhance statement flowers, such as pink roses and peonies. The woody shrubs help to add depth and lend the bouquet or centrepiece more of a rustic aesthetic.
Although not the most fragrant of flowers, the waxy petals give off a refreshing citrus scent - perfect for a guest bedroom or even an office space. If you're not such a fan of the more intensely perfumed floral arrangements, then the waxflower is the bloom for you!
There are numerous types of waxflower. Named after the Australian town, Geraldton Wax is the most common, with long-lasting powder pink clusters and a striking dark centre. The large waxflower produces the biggest blooms and can grow up to 8 feet tall, whereas the Brevifolium variety is one of the smallest and most fragrant.
The waxflower's most popular shades of white and soft pink are commonly used for detailing in romantic and boho bridal bouquets. Its dainty, flexible form is also perfect for table and cake decorations.
Origin:The waxflower is native to Western Australia, where it was given its botanical name Chamelaucium.
Vase life:An excellent cut flower, it can last up to 3 weeks.
Colour range:White, pink, purple and red.
Best occasion:As a symbol of long-lasting love, the waxflower is a favourite for wedding bouquets and other floral decorations.
Symbolism:Good fortune, happiness, long-lasting love and new beginnings.
Wisteria - the language of love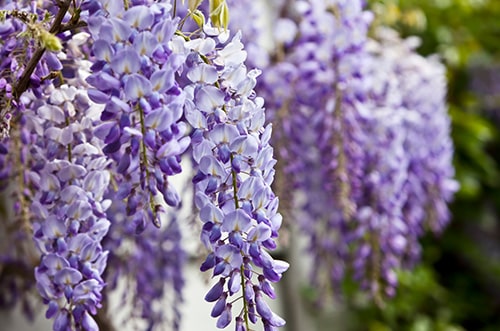 A cascading waterfall of purple blooms - it could only be wisteria!
Blooming in mid-spring, this spectacular floral display is truly a feast for the eyes. Although controversial for its invasive growing habits, wisteria is a popular ornamental plant.
With showy flowers and a scent that ranges from sweet to musky, it adds drama and volume to floral arrangements. The wisteria boasts a sweeping silhouette, standing alone in any vase display. We also love the breathtaking elegance of combining this statement flower with lilacs, peonies or roses.
Unsurprisingly, wisteria has a deep cultural significance around the world. In Korean folklore, the flower is linked to a tale of twin sisters who died of heartbreak and transformed into the beautiful wisteria vine - how romantic!
Wisteria has universal appeal, embellishing the arbours and arches of English country estates and the walls of quaint thatched cottages alike. Among the various types of wisteria, the Asian varieties are the most popular for their stunning flowers and appealing fragrance.
Fun Fact:Wisteria actually belongs to the legume family. However, unlike the tasty pea, we wouldn't recommend eating the flower as it is highly toxic!
Origin:Native to Asia and North America, wisteria is widely cultivated around the world.
Vase life:The delicate blooms tend to last up to a week before beginning to droop.
Colour range:Wisteria ranges from softer shades of white and pastel pink to lavender-blue, lilac and mauve.
Best occasion:A truly romantic flower, wisteria is perfect for declarations of love and adds a touch of springtime elegance to wedding decorations.
Symbolism:Romance, devotion, success, good luck and longevity.
Bouvardia - petals of passion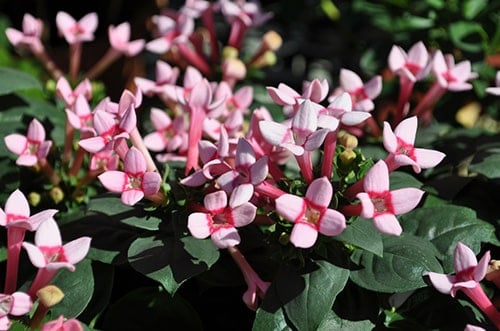 Ranging from 1 to 4 feet in height, theBouvardiais a member of the Rubiaceae family and a close relative of the gardenia. With its delightful night-time fragrance and showy, trumpet-shaped flowers in a variety of eye-catching shades, the bouvardia is the picture of positivity.
From summer garden beds to exquisite wedding arrangements, the bouvardia is prized as a cut or ornamental flower. One of our personal favourites, we love the decorative pop of colour that the bouvardia brings to floral bouquets and vases - not to mention its long-lasting blooms!
Bouvardia 'ternifolia', also known as the Firecracker Bush, is a fierce little flower and one of the most popular varieties. Its fluorescent shade of red adds design interest and, dare we say, a touch of sass to home and cottage gardens alike.
Symbolic of enthusiasm, passion and the joys of living, the bouvardia is a magnificent celebration of life.
Available in a multitude of colours, each variety has a unique meaning that can be used to mark specific milestones and special occasions.
While the red bouvardia makes a great gift for more romantic events,the yellow bloom is symbolic of happiness and can be given to friends and work colleagues to offer well wishes.If you have a first date coming up, why not bring along a bunch of pastel pink bouvardia flowers?
Origin:The bouvardia flower is native to tropical parts of the Americas, including Mexico.
Vase life:A welcome addition to many floral arrangements, the bouvardia has a vase life of 2 to 3 weeks.
Colour range:Pink, white, peach, cream, green, red and lilac.
Best occasion:An extremely versatile bloom, the bouvardia can be combined with a wide variety of flowers for numerous celebrations, from birthdays to anniversaries.
Symbolism:Enthusiasm, passion, appreciation.
Clematis - a delicate wall-climber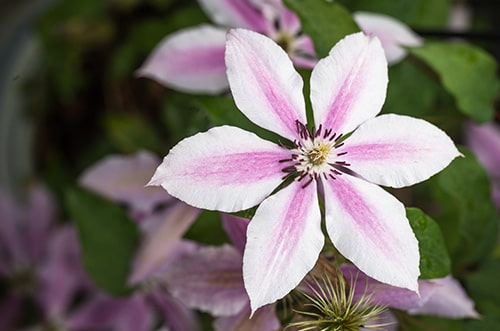 Known as the 'Queen of the Vines' for its show-stopping, vibrant blooms and unique form, it's easy to see why the clematis is such a potent symbol of joy and good fortune.
With two blooming periods, the clematis has spring and summer-flowering varieties.
An impressive ornamental flower, the more popular clematis varieties feature striped, multicoloured, or larger than usual petals. Combine with tulips or bleeding hearts to create a unique floral arrangement.
The blooming beauty of country roads and pathways in the height of summer, this flowering vine carries the meaning of 'a traveller's joy' and is commonly used across parts of Europe and Asia to wish people well on their journeys.
This significance has evolved to also represent the more metaphorical celebration of those embarking on a new career. So, if you're attending a graduation party or know of someone who has recently got a new job, a bouquet of clematis flowers is a great way to say 'congratulations and good luck!'.
Fun Fact:In the Victorian language of flowers, the clematis was associated with cleverness and mental agility as a result of its agile and solution-based growing habits.
Origin:The clematis flower is native to China, Japan, Europe and North America.
Vase life:A minimum of 10 days.
Colour range:Brilliant shades of purple, pink, blue white and red.
Best occasion:The clematis is perfect for celebrating those embarking on an exciting journey, whether that's a new house or career.
Symbolism:Ambition, travel, wisdom, good luck, joy and ingenuity.
---
Dianthus - a spray of tickled 'pinks'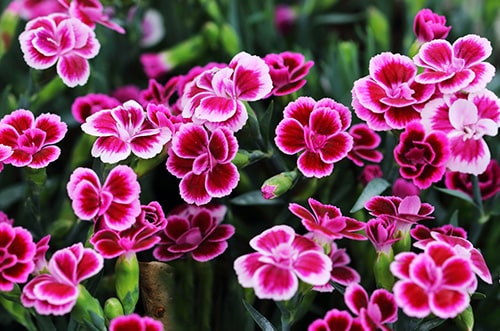 A treasure of the flower world, the dianthus has long been associated with the gods and divinity. In Ancient Rome, this flower was linked to the mighty sky-god Jupiter and was included in ceremonial wreaths, garlands and crowns.
If that's not impressive enough,this delicately fringed bloom has been cultivated for hundreds of years- sprinkling a touch of botanical joy from Ancient Greece and Rome to the gardens of Monticello! Its versatility and ease of care make it a popular choice as a cut flower, bloogypp ming from early spring into the summer months.
With a warm, slightly spiced scent and an abundance of beautiful shades, the dianthus is a vibrant symbol of love and is commonly used in wedding floral designs as a filler or focus flower. We particularly love the combination of the dianthus, roses and verbena in a colourful and romantic arrangement.
Featured throughout art and literature, the flamboyant dianthus flower looks as though it's jumped right out of a painting.
Fun Fact:Cast away all your troubles. In Japan, smelling the fragrant dianthus flower and letting it blow away is said to bring good fortune and a positive future.
Origin:With around 300 species, the dianthus flower is native to parts of Southern Europe and Asia.
Vase life:Up to 3 weeks.
Colour range:White, pink, red and purple.
Best occasion:Forget about jewellery or over-priced perfume, the dianthus is the perfect gift to show someone how much you care.
Symbolism:Love, affection, gratitude and admiration.
Agapanthus - a show-stopping splash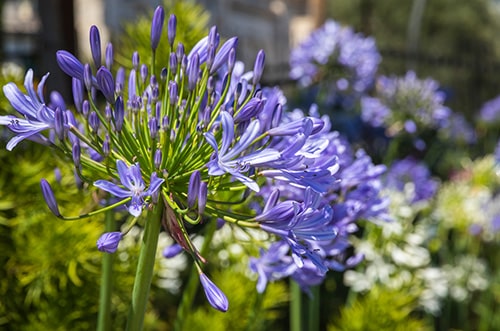 The agapanthus is a flower sometimes known as the 'Lily of the Nile' or 'The African Lily', which is native to South Africa.
These beautiful plants bloom in the summertime and have big blue flowers, which are dazzling to behold. They also come in lavender and white varieties, although the blue variations are most common. Despite the name, agapanthuses are not actually classified as lilies - instead, they're a part of the Amaryllidaceae family.
Agapanthus plants thrive when grown in warmer climates - however, they can be grown indoors in colder countries like the UK. These pretty flowers are often seen as a symbol of love, perfect as a gift to a partner or spouse.
Agapanthuses are considered to be an invasive species in some places and can take several years to actually flower. These are things you may need to take into account if you're planning on growing these beautiful plants in your garden. However, they're still readily available, making for well sought-after gifts at any time of year.
Origin:All species of agapanthus are native to Southern Africa (particularly South Africa, Lesotho, Eswatini and Mozambique) although they have become naturalised in Australia, Mexico, the UK, Ethiopia and Jamaica
Vase life:Approximately two weeks
Colour range:Blue, lavender and white
Best occasion:As agapanthuses are symbols of love, they're flowers best suited for Valentine's Dayor as anniversary presents
Symbolism:This flower is typically considered to be a symbol of love and romance, as well as fertility, beauty and purity
Daffodil - the poet's inspiration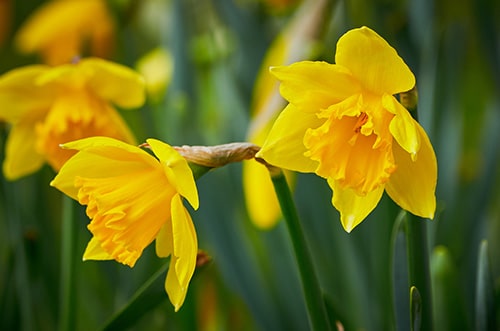 The humble daffodil is one of the most popular forms of flower at the moment - no matter whether they're being given as gifts or are planted in your garden.
There are several different types of daffodil available - 'paperwhites', 'narcissus' and 'jonquils' - however, they're all part of the Narcissus genus. Daffodils are classed as perennials, meaning they can flower each year on their own, making them effortless to grow.
Interestingly, daffodils are rarely used for pollination as they contain a natural pesticide and are grown from bulbs. They're also considered to be pest resistant as they contain the alkaloid lycorine, protecting them from deer and rodent damage.
Most daffodils bloom between January and April, making them perfect gifts for Easter or Mother's Day. They're traditionally given for 10th wedding anniversaries. Daffodils are also the national flower of Wales, showing just how iconic this form of flower is.
Origin:Daffodils are native to Southern Europe and North Africa, finding a home within the Iberian Peninsula of the Western Mediterranean
Vase life: Between 7-10 days
Colour range:The yellow variety is the most common - however, they also come in white, orange and pink
Best occasion:The daffodil typically blooms in the springtime, making it perfect for Easter, Mother's Day, or spring birthday celebrations.
Symbolism:Due to their springtime flowering, daffodils are closely associated with that season, symbolising rebirth and hope. They're resilient flowers as they start to grow properly during winter - one of the hardest times of year for plant life to grow.
Bird of Paradise - a truely tropical show-stopper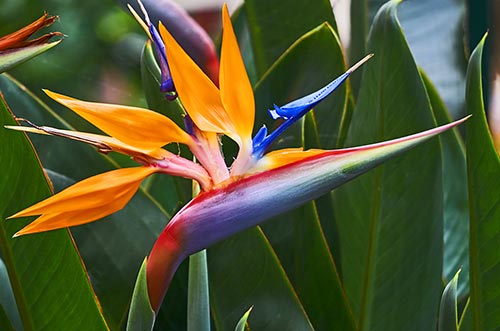 Are you ready to add some tropical flair to your garden or home? Look no further than the majestic bird of paradise (strelitzia reginae)! This show-stopping plant is native to South Africa and is known for its vibrant, orange and blue flowers that resemble the head of a tropical bird.
The plant produces showy, orange and blue flowers that are shaped like the head of a tropical bird, with a long, curved beak and bright, orange 'feathers.' It's this appearance that also gives them their alternative name of 'the crane flower'. The flowers are typically about 25 cm long and are held high above the plant on long, slender stalks.
With long, glossy leaves and towering, slender stalks, the bird of paradise is sure to turn heads and add some style to your space.
The bright orange colour is often associated with warmth, cheer, and tropical environments, while the blue colour is often associated with tranquillity and relaxation.
Origin:Due to its requirement for sunny and warm conditions, the plant can be found mostly in America and Australia.
Vase life: Blooms used in a flower bouquet can last up to 2 weeks.
Colour range: Typically orange and blue, with a long, curved beak and bright, orange feathers.
Best occasion:If you find yourself celebrating 9 years with your loved one, this flower is the official flower for this milestone - consider this plant for an anniversary.
Symbolism:Freedom, joy, love and paradise